ADXBA's sales and marketing director, Nick Shaw was recently interviewed by Panstadia & Arena Management magazine about ADXBA's expansion into the sports and arena market and the role of digital displays in driving both revenue and fan engagement.  Here's the Q&A as it appeared in the 2021 publication.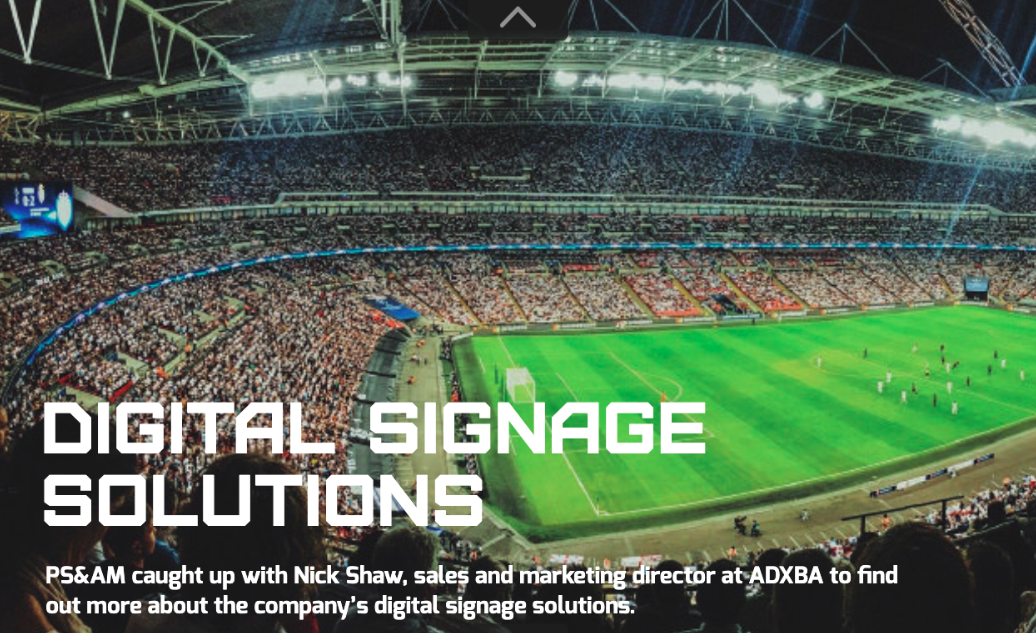 Can you please give our readers a brief overview of ADXBA and the visual communication solutions that you offer, including some of your iconic projects?
ADXBA provides digital signage solutions.  We're large-format display specialists and the preferred digital solution provider to some of the biggest DOOH advertisers and transport hubs in the world. Our turnkey service covers the entire AV integration process, from design to installation and maintenance and we've also developed a remote monitoring tool that is used to manage the Flight Information Display System at Gatwick Airport and to monitor Global's enormous Digital Out of Home estate.  We're responsible for devising and deploying the delivery of advertising content on BT's InLink digital street units and we're the preferred digital signage provider to the UK's fastest growing out-of-home media owner, Alight Media.  Now, we're applying our AV integration capability, technical development skills and commercial expertise to sports, exhibition and entertainment venues.
What were the key reasons for you deciding to enter the sports venue market and how do you differ from current display solution providers in the industry?
We identified sports venues and arenas as opportunities for growth for ADXBA because so much of our experience and skills in other sectors can be transferred to this market.  We've spent years helping clients in transport hubs to solve wayfinding challenges and working with DOOH media partners to understand public behaviour and how things like dwell points can maximise advertising ROI – these learnings can be directly applied to help sports venues manage large numbers of visitors and meet their commercial goals.
We differ from other providers in the industry because we provide a complete cradle to grave service.  We do everything from blue-sky concepts to design, procurement, integration, service and maintenance and not many companies offer this complete suite of services.  We've even got an in-house product development capability and can provide bespoke solutions.
Once the pandemic eases, sports venues will be under huge pressure to maximise revenue streams whilst offering the highest possible experience in terms of fan engagement. How do you feel that your technology can be used to be help them achieve both aims?
It's going to take more than even an exceptional effort for stadiums and arenas to return to profitability in 2021.  Commercial teams are going to need to explore new ways to both save and make money while still offering unforgettable fan experiences.  While we recognise that even the most fantastic display solution won't solve all the problems that sports venues face in 2021, we believe that digital displays have a key role to play in supporting this recovery.  In fact, we've recently released an e-book outlining how sports venues can turn digital displays into profit centres.
Some of the tactics we explore in the e-book include:
Integrating display networks with a content management system. Creating a multipurpose network of connected, but independent, displays gives venues the freedom to share any message, on almost any combination of screens at any time – so the screen that displays wayfinding messaging when fans arrive at your venue can become a repeater screen during the game and show social distancing messages or advertising at halftime.
Creating covid secure venues. By using ground sensors, beacon technology and similar location and proximity tools to gather data about the number of people in various locations around the stadium, and then rolling out live message updates on digital displays via the CMS, venue operators can create an intelligent, responsive system that directs fans away from bottlenecks and reduces the risks of overcrowding.
Increasing sports advertising and sponsorship revenue. Arguably the most lucrative way that digital displays can be used in any sports venue is to show advertising and sponsorship messages – both to on-site spectators and (where the match is being broadcast) to television viewers. Now, thanks to virtual overlays, double sided perimeter boarding and connected display networks your advertising earning potential doesn't have to be limited by how many displays you have in your stadium.
When it comes to display technology, what in your opinion are the most important factors which sports clubs and venue managers/operators need to think about when deciding which supplier to work with?
Great deals can be tempting, especially when times are hard.  But often, even if these deals deliver in the short term, they end up either costing money or reducing your ability to earn revenue over time – which really amounts to the same thing.
The digital display market has exploded in recent years, and the industry has been flooded with a raft of new LED and LCD manufacturers. But venues should be wary of knock-down prices from new brands that haven't proven their worth, as any savings made on the initial purchase can quickly be spent on repairs, replacements and lost advertising revenue due to equipment failures.
Venues can also be tempted by package deals that exchange the cost of equipment and integration for a share of the advertising revenue earned from these displays.  Unfortunately, less scrupulous suppliers have been known to tie venues into extended contracts on this basis and then provide sub-standard technology that costs a fraction of the advertising earnings they're taking from the venue and which has to be replaced before the end of the contract term.
In short, sports venues should resist thinking only about the short term and look for a partner that uses reputable suppliers and that will provide a solution that fits your budget and meets your goals, but which will also deliver over the long term.
What are the key benefits for systems integrators and venue project teams to work with you right from the start of planning either new build projects or improvements to their existing AV infrastructure?
We live and breathe AV every day.  While big new builds generally bring AV consultants in at the early stages, they're just not as close to the market and technology as we are because they're not working hands-on with it on a daily basis.  The responsibility for integrating the technology, making it deliver what the client needs, and supporting and maintaining it ultimately falls to the digital solution provider, so it makes sense to get us involved as early as possible – we've got a vested interest in ensuring that the right decisions are made up front because we're the ones that will ultimately have to make it work.  In our experience, the best solutions come from a collaborative approach as early in the process as possible – especially when times are tough and venues need to balance futureproofing and cost cutting.
For more advice about how sports venues can use digital displays to both save and make money, download our free e-book "Turning digital displays into profit centres: a game plan for sports venues" here