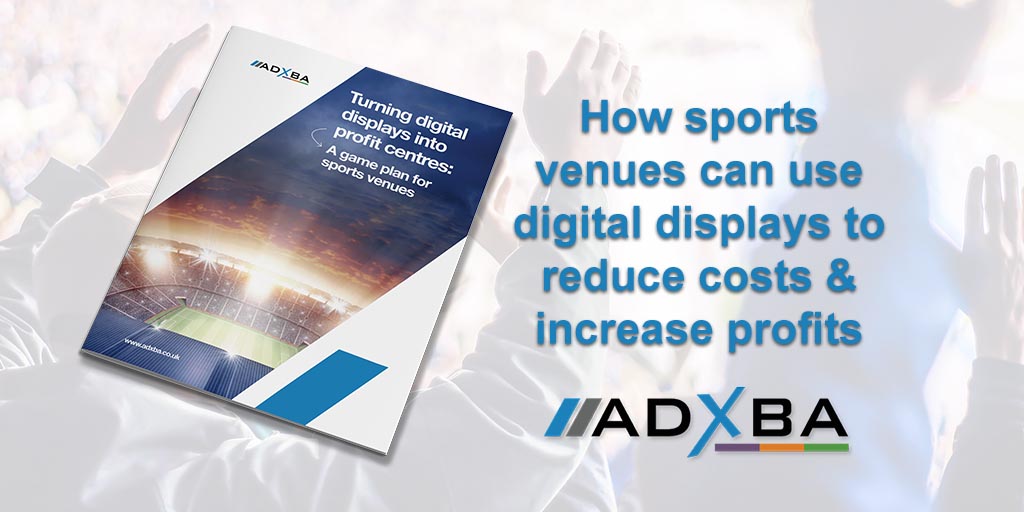 TURNING DIGITAL DISPLAYS INTO PROFIT CENTRES: A GAME PLAN FOR SPORTS VENUES
No need to fill in a form or share your details, just click the link below to get your copy now.
WHAT THIS E-BOOK IS ABOUT:
In this e-book, we share how venues of any size can use digital displays to reduce costs and increase profits during uncertain times.
WHO SHOULD READ IT:
Stadium managers, commercial directors and executive teams at sports venues of any size. If you're responsible for the commercial success of sports venue, this ebook is for you.
SOME OF THE TOPICS IT COVERS:
Key technology considerations for creating a connected display network.
Why sustainable practices make financial sense.
The hidden costs of short-term savings.
Digital display's role in creating safe venues.
How to increase advertising and sponsorship revenue.
Leveraging the potential of AI.
ABOUT THE AUTHORS:
ADXBA provides complete digital signage solutions to DOOH advertisers, transport hubs, hospitality, stadia and arenas. The company's turnkey service covers the entire AV integration process while their in-house technical development capability and commercial focus allows them to create bespoke solutions that deliver financial returns. With offices in Manchester, Crawley and Dublin and an international partner network, ADXBA is recognised as a large format display specialist and is the preferred digital solution provider to some of the world's largest airports. Now, they're applying their AV integration capability, technical development skills and commercial expertise to sports, exhibition and entertainment venues.