ADXBA in no danger of missing the bus with Alight Media DOOH roll-out
Digital signage solutions specialist ADXBA is working with Alight Media to deliver versatile DOOH installations to transport and roadside locations across the UK.
Providing advertisers with an array of options to reach potential customers, Alight Media is one of the UK's premier digital out-of-home (DOOH) media owners. With a major programme of DOOH installations in prospect, Alight Media recently decided to partner with digital signage solutions specialist, ADXBA.
Alight Media's full digital network reaches over half of all working adults in the UK each month. The estate comprises roadside digital 6 sheets and large format digital billboards in 130 towns nationwide from Torquay to Dundee.
Several factors informed Alight's decision to work on their Samsung Electronics' digital sites with ADXBA, who were recommended to them by Samsung. Firstly, there was the sheer number of new sites that had to be provided with versatile digital signage solutions as quickly as possible. Secondly, they required a partner that could deliver end-to-end solutions – from design and fabrication to on-site installation and commissioning.
Like so many great partnerships, the scope of the work involving ADXBA has expanded significantly from its original premise. Initially, the company was contracted to remove existing equipment and design, fabricate and install D6 units at 104 sites in South Yorkshire and Telford.
"Since that initial contract, we have done more and more work for Alight Media," says ADXBA managing director, Jim Kerr. "This has included additional D6 installations, as well as D48 billboard LEDs at roadside sites across the country."
Delivering bespoke DOOH
ADXBA's work on the D48s, in particular, has exemplified its now substantial capabilities in DOOH. In each case the company's in-house team applied a 'back to the drawing board'-style approach that methodically worked through every aspect of solutions development – from system specification to electrical, mechanical and structural design. The company also had to accommodate different mounting methods – including goal post frames, gable wall installations and mono-poles – depending on the requirements of individual sites.
"What we provide are complete solutions that make use of every aspect of our expertise in DOOH," adds ADXBA sales and marketing director, Nick Shaw. "So, the screens are pre-built, tested and fully signed-off at our assembly facility before being taken to their locations. At the actual sites we do all the groundwork, including excavation and facilitating DNO power supplies to be put in, then install the screens and commission them before formally handing over to Alight Media."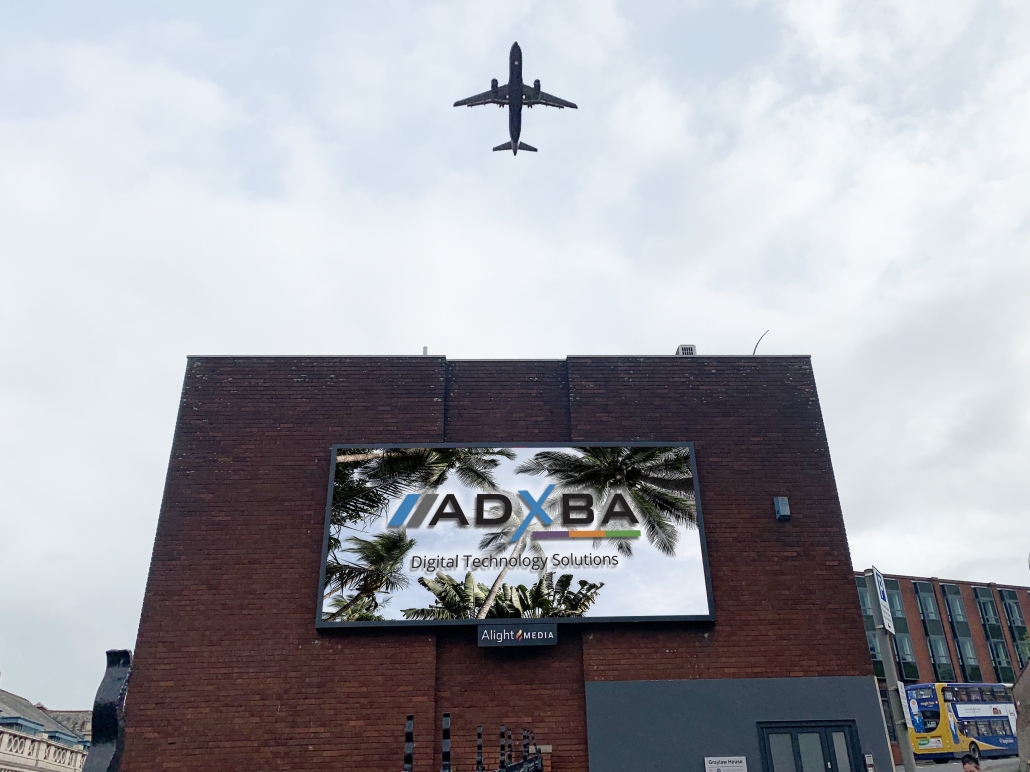 Display solutions at scale
With both Alight Media and ADXBA being relatively new players in the DOOH sector, the successful 200-plus installations since mid-2020 underline the impressive capabilities of the companies' partnership.
"Alight Media is the only DOOH supplier building in this quantity in the UK at present time, so the fact that we have become one of their key partners is a major feather in our cap," continues Shaw. "A lot of that is down to our ability to provide a complete turnkey solution – from design to assembly, testing and commissioning – and our very experienced in-house team."
Indeed, ADXBA has even been able to provide some innovative new features that will help protect Alight Media's investment in the long-term. For example, the company has included bespoke boards in the D6s to monitor fans and thermals. This means that potential or emerging faults can be detected and addressed at an early stage.
After completing more than 200 installations already, and with more projects currently under consideration and in progress, the partnership with Alight Media is very much an ongoing concern. Kerr concludes,
"Alight Media is challenging the way that out-of-home advertising works in the UK, and this transformative approach calls for an equally innovative approach to DOOH technology. We are delighted that we have been able to provide precisely that to so many prestigious locations around the UK."
Video by View2Fill.